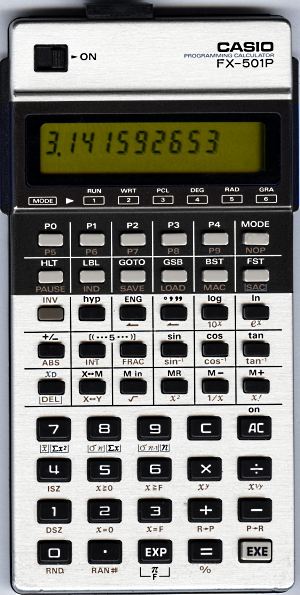 The Casio fx-501P is a programmable calculator with 10 digits precision and algebraic logic. It has 50 keys, and one of the early LCD (liquid crystal) displays which incorporated a yellow filter. The power source is 2xCR2032 3V. The calculator was manufactured in Japan.
The fx-501P was included in the list of instruments used in the making of the "Computer World" album by German electronic music pioneers Kraftwerk. The album includes the song "Pocket Calculator" which was also released as a single.​
Note: Cassette interface FA-2 available.
Facts at a glance:
| Feature | Value |
| --- | --- |
| Type: | Programmable |
| Keys: | 50 |
| Precision: | 10 |
| Logic: | Algebraic |
| Display type: | YLCD |
| Printer: | External |
| Length: | 152mm |
| Width: | 76mm |
| Thickness: | 12mm |
| Power Consumption: | 0.001W |
| Power Source: | 2xCR2032 3V |
| Country: | Japan |
| Year introduced: | 1979 |
| YearDiscontinued: | 1980 |