Casio fx-85GT PLUS (Natural Display)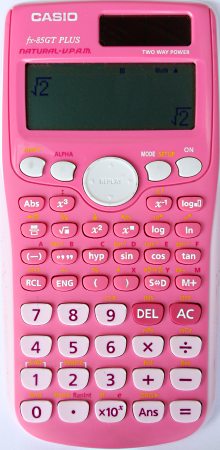 The Casio fx-85GT PLUS is a scientific calculator with 10 digits precision and formula input logic. It has 250 functions, 50 keys, and an LCD (liquid crystal) display. The calculator was manufactured in China.
For the 2010 range of scientific calculators, Casio made a subtle case re-design, and used the "GT" suffix for the ever popular fx-8x series. As well as the usual grey/dark blue colour scheme they were available in two-tone pink!
Note: Millie has one
Facts at a glance:
| Feature | Value |
| --- | --- |
| Type: | Scientific |
| Functions: | 250 |
| Keys: | 50 |
| Precision: | 10 |
| Logic: | Formula |
| Display type: | LCD |
| Display size: | 96 |
| Length: | 160mm |
| Width: | 80mm |
| Thickness: | 14mm |
| Weight: | 110g |
| Country: | China |
| Original price: | 14 |
| Est. current value: | 14 |
| Year introduced: | 2010 |
| | . |