Casio UC-365 (Universal Calendar)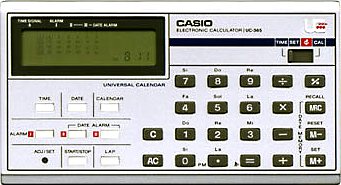 The Casio UC-365 is an arithmetic calculator with 8 digits precision and algebraic logic. It has 4 functions, 30 keys, and an LCD (liquid crystal) display. The power source is 2xLR44. The calculator was manufactured in Japan.
This device has a calendar, alarm clock and stopwatch, in addition to the normal four function calculator.
Facts at a glance:
| Feature | Value |
| --- | --- |
| Type: | Arithmetic |
| Functions: | 4 |
| Keys: | 30 |
| Precision: | 8 |
| Logic: | Algebraic |
| Display type: | LCD |
| Power Source: | 2xLR44 |
| Country: | Japan |