Casio DC-150A (DATA CAL)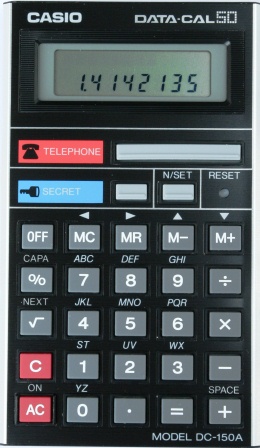 The Casio DC-150A is an arithmetic calculator with 8 digits precision and algebraic logic. It has 6 functions, 29 keys, and an LCD (liquid crystal) display. The power source is 3V cell. The calculator was manufactured in Japan.
This calculator is also known as the DATA-CAL 50, and includes a telephone number storage feature.
Facts at a glance:
| Feature | Value |
| --- | --- |
| Type: | Arithmetic |
| Functions: | 6 |
| Keys: | 29 |
| Precision: | 8 |
| Logic: | Algebraic |
| Display type: | LCD |
| Length: | 115mm |
| Width: | 68mm |
| Thickness: | 8mm |
| Weight: | 41g |
| Power Consumption: | 0.002W |
| Power Source: | 3V cell |
| Country: | Japan |
| Year introduced: | 1989 |
| YearDiscontinued: | 1990 |
| | . |