Casio CFX-9800G (Color Power Graphic)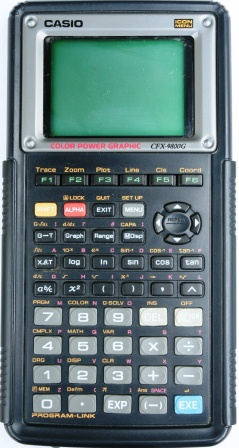 The Casio CFX-9800G is a graphing calculator with 10 digits precision and formula input logic. It has 58 keys, and an LCD (liquid crystal) display. The power source is 2xAAA + CR2032 3V. The calculator was manufactured in China.
​The calculator has a bulky feel to it. The case is quite thick and is not really one of the most elegent designs Casio have produced. The toy-like quality is further reinforced by the fake rivets on the silver-painted surround of the display.
The display itself is one of the early colour LCD displays. In fact all it can really do is add red green and blue in addition to black. There is no back-light or gradation of the colour components. This limits the usefulness of the colour display to just the ability to present a graph containing multiple identifiable curves.
Facts at a glance:
| Feature | Value |
| --- | --- |
| Type: | Graphing |
| Keys: | 58 |
| Precision: | 10 |
| Logic: | Formula |
| Display type: | LCD |
| Display size: | 126 |
| Length: | 172mm |
| Width: | 85mm |
| Thickness: | 20mm |
| Weight: | 160g |
| Power Consumption: | 0.100W |
| Power Source: | 2xAAA + CR2032 3V |
| Country: | China |
| Year introduced: | 2000 |
| YearDiscontinued: | 2005 |
| | . |