Sharp EL-51T (Scientific calculator for OHP)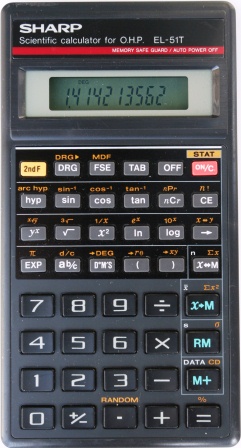 The Sharp EL-51T is a scientific calculator with 10 digits precision and algebraic logic. It has 50 functions, 44 keys, and an LCD (liquid crystal) display. The power source is 2xLR44. The calculator was manufactured in Taiwan.
The calculator has a transparent display area which is intended to be placed on an Overhead Projector (OHP) to enable a teacher to demonstrate calculations to a class. Presumably the "T" designation is for "Teacher".
Facts at a glance:
| Feature | Value |
| --- | --- |
| Type: | Scientific |
| Functions: | 50 |
| Keys: | 44 |
| Precision: | 10 |
| Logic: | Algebraic |
| Display type: | LCD |
| Length: | 141mm |
| Width: | 69mm |
| Thickness: | 8mm |
| Weight: | 80g |
| Power Consumption: | 0.001W |
| Power Source: | 2xLR44 |
| Country: | Taiwan |
| Year introduced: | 1985 |
| | . |