Kings Point 8414 (MICRO EXECUTIVE)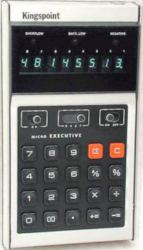 The Kings Point 8414 is an arithmetic calculator with 8 digits precision and algebraic logic. It has 6 functions, 20 keys, and a VFD (vacuum fluorescent) display. The power source is 4xAA.
Early versions of this model actually came with two battery holders; one for normal batteries and one for use with the newer rechargeable batteries.
Note: Realtone 8414
Facts at a glance:
| Feature | Value |
| --- | --- |
| Type: | Arithmetic |
| Functions: | 6 |
| Keys: | 20 |
| Precision: | 8 |
| Logic: | Algebraic |
| Display type: | VFD |
| Length: | 152mm |
| Width: | 83mm |
| Power Source: | 4xAA |
| Original price: | 45 |
| Year introduced: | 1974 |
| YearDiscontinued: | 1974 |