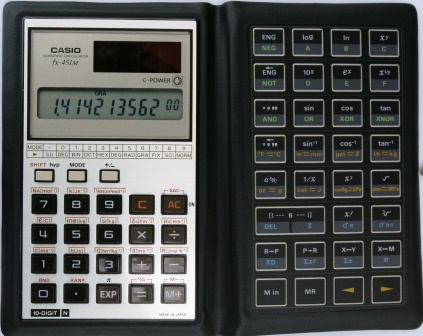 The Casio fx-451M is a scientific calculator with 10 digits precision and algebraic logic. It has 44 keys, and an LCD (liquid crystal) display. The power source is Solar with battery backup. The calculator was manufactured in Japan.
This is a fairly rare folding scientific calculator. The "M" version uses C-Power (meaning "continuous power") from the backup battery to maintain memory.
Battery replacement:
The battery is a GR927 or SR57, which is button cell watch battery. It shouldn't be difficult to get hold of this or an equivalent. There are several plastic clips holding calculator body into the wallet part – be careful dismantling; they can be quite fragile. The calculator then lifts out of the wallet, still attached by a ribbon cable to the right hand keypad. Look for four crosshead screws that retain the front panel (don't turn it over after these screws are been removed because there is nothing holding the buttons in place). There are two more retaining screws on the reverse which allow access to the battery.
Facts at a glance:
| Feature | Value |
| --- | --- |
| Type: | Scientific |
| Keys: | 44 |
| Precision: | 10 |
| Logic: | Algebraic |
| Display type: | LCD |
| Length: | 125mm |
| Width: | 80mm |
| Thickness: | 12mm |
| Weight: | 77g |
| Power Source: | Solar with battery backup |
| Country: | Japan |
| Est. current value: | 50 |
| Year introduced: | 1985 |
| YearDiscontinued: | 1987 |
| | . |