Canon card LC-31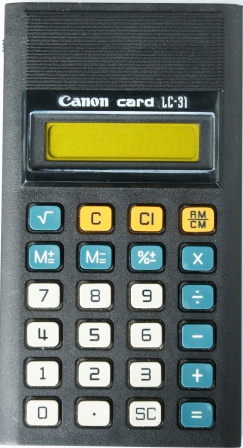 The Canon card LC-31 is an arithmetic calculator with 8 digits precision and algebraic logic. It has 6 functions, 24 keys, and one of the early LCD (liquid crystal) displays which incorporated a yellow filter. The power source is 2xAAA. The calculator was manufactured in Japan.
From the name you might think this was credit card sized and thin. In fact it is much the same size as other calculators of the this type.
The yellow filter on the LCD display indicates that this is one of the early LCD models.​
Facts at a glance:
| Feature | Value |
| --- | --- |
| Type: | Arithmetic |
| Functions: | 6 |
| Keys: | 24 |
| Precision: | 8 |
| Logic: | Algebraic |
| Display type: | YLCD |
| Length: | 128mm |
| Width: | 70mm |
| Thickness: | 13mm |
| Power Consumption: | 0.000W |
| Power Source: | 2xAAA |
| Country: | Japan |
| Year introduced: | 1979 |
| YearDiscontinued: | 1981 |
| | . |