Rockwell 61R (ADVANCED SLIDE RULE)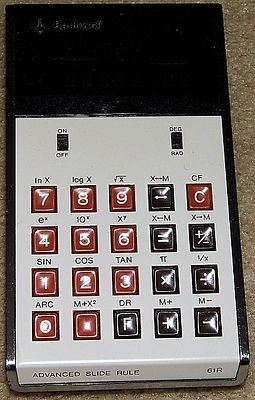 The Rockwell 61R is a scientific calculator with 8 digits precision and algebraic logic. It has 21 functions, 20 keys, and a VFD (vacuum fluorescent) display. The power source is a sealed 3.6V NiCd re-chargeable battery pack with 6V charger. The calculator was manufactured in Mexico.
Manufactured in Mexico for Rockwell International, Anaheim, California, USA. Supplied with charger and cloth carrying case.
Facts at a glance:
| Feature | Value |
| --- | --- |
| Type: | Scientific |
| Functions: | 21 |
| Keys: | 20 |
| Precision: | 8 |
| Logic: | Algebraic |
| Display type: | VFD |
| Length: | 156mm |
| Width: | 84mm |
| Thickness: | 24mm |
| Weight: | 278g |
| Power Source: | a sealed 3.6V NiCd re-chargeable battery pack with 6V charger |
| Country: | Mexico |
| Original price: | 80 |
| Year introduced: | 1974 |
| YearDiscontinued: | 1975 |