Thick and Thin
Sometimes it seems as though technology is going backwards...
Normally as technology progresses, things that could do with being smaller get smaller. I know it doesn't always work with cars - they seem to be getting bigger, but you have to climb inside them so there is a reason to make them larger, if not a compelling one.
But what about gadgets you keep in your pocket, like mobile phones? They have certainly been getting smaller, and if they don't get smaller they get more features for the same size. The current digital cameras are the size of spy cameras of the 1970's and yet they include a minimum 5 megapixel sensor, and in quite a few cases a lens capable of using it.
So what happened to PDAs? We seemed to hit the peak of miniaturization with the HP iPAQ 1900 series a couple of years ago, but since then they seem to have been getting larger again.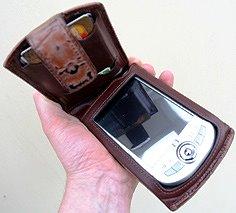 I like the fact that I can keep my iPAQ in my wallet (which is actually an adapted leather Palm Pilot case). I can't do that with the newer models. Those slide-out keyboards and GSM antennae take up more space, and the devices are getting bigger again. I'm quite happy to have a separate PDA and mobile phone. But for some reason I prefer the wallet/PDA combo to the Phone/PDA integrated device, because if the latter goes wrong (typically because the battery dies) you're high and dry.